Update – March 8th: Since our original sampling Thursday evening when pH was 3.65, FOC has pulled several sets of Water Quality (WQ) samples in Muddy Creek and the Cheat River downstream of Muddy. On Friday, we deployed our Muddy Creek live reading sonde, which reports live water quality data to FOC staff remotely every ten minutes. Since then, we have seen improvements in WQ, and pH at the mouth of Muddy Creek now rests at 7.10. You can track the improvements at https://wqdatalive.com/public/1128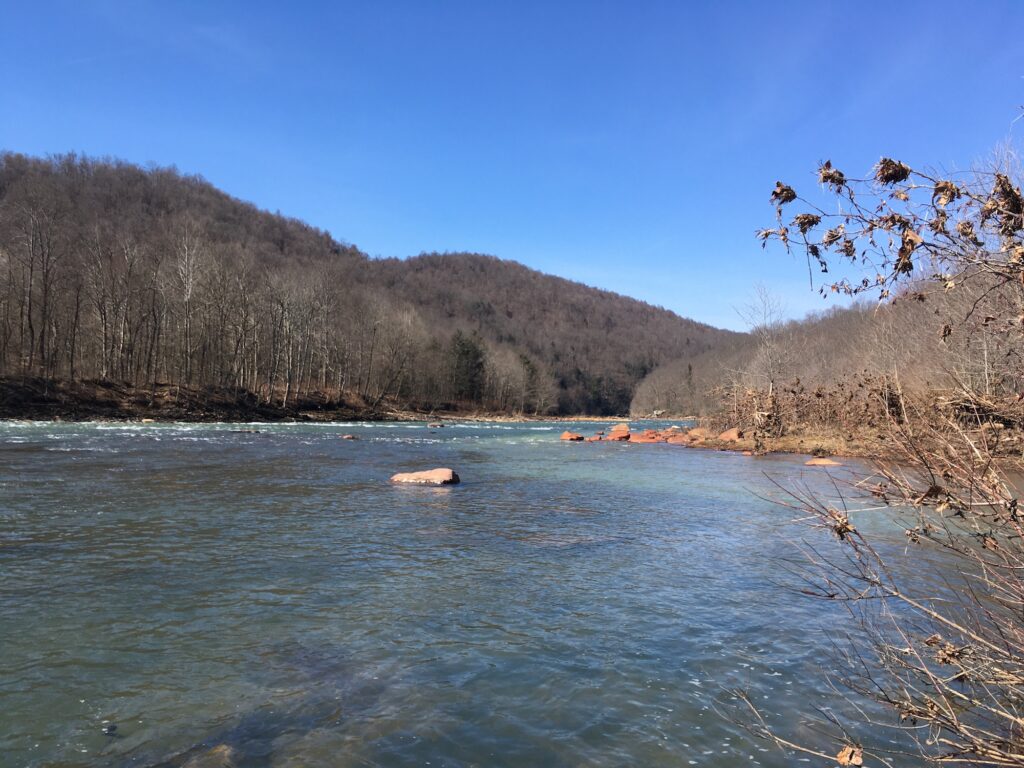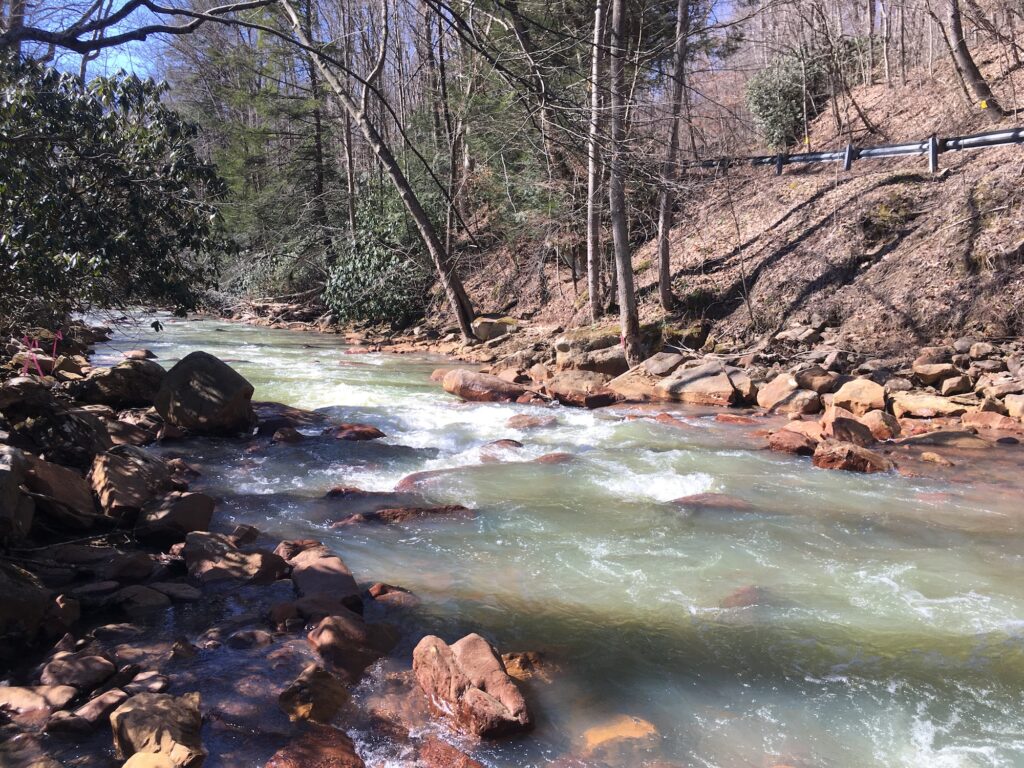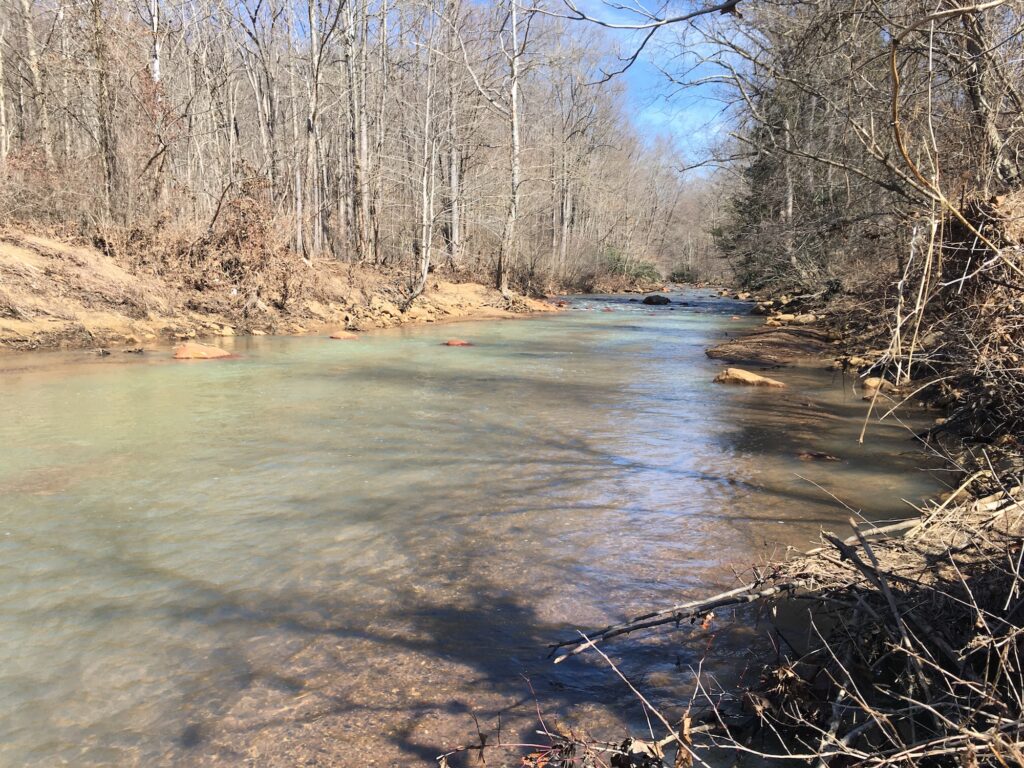 The good news is – at this time there is no evidence of a fish kill in Cheat River. Based on our conversations with WVDNR, it appears we are out of the weeds in that regard as long as WQ is maintained as pH neutral. While this event will have serious impacts to the stream community that was beginning to reestablish in Muddy Creek, we are fortunate this event was not as extreme as the earlier blowouts that took place in the 1990s. We will continue to monitor impacts in Muddy Creek and the Cheat River mainstem.
WVDEP have been working hard to contain and treat the acidic water created from the blowout, and our WQ testing shows that the status of Muddy Creek has improved, maintaining a pH level similar to before the blowout. An investigation is currently ongoing to identify the source of the blowout and discuss next steps on preventing a similar event in the future – this is FOC's biggest concern at the moment in light of climate trends that predict warmer, wetter conditions and more severe flooding events for this area. FOC aims to be at the table during these discussions.
We could not thank you enough for your continued support during this painful event. We will use your donations to advocate for healthier streams, increased protections, and to push our legislators to reauthorize the Surface Mining Control and Reclamation Act – Abandoned Mine Lands Fee, set to expire in 2021. Without reauthorization, FOC and other groups lose a major funding source to tackle or maintain any AMD treatment sites: a scary thought after the events of last week.
March 5th: It is with heavy hearts that we inform our river community that there has been another blowout related to the T&T mine system, and acidic and metal laden water is again flowing through Muddy Creek. FOC staff noticed the disturbing hue of the water yesterday and found the pH reading 3.65. pH has dropped in the Canyon at "Decision Rapid" to 5.8, and has stained the river right extensively.
The WVDEP's T&T Treatment Facility was not able to handle the burden of the recent precipitation events. WVDEP released the following press release concerning the blowout – March 5 2020 – DEP investigating blowout at former T&T Mine. With precipitation projected to occur more often and with greater intensity over the next decade, we are left to wonder how often these events may occur. For the fish documented in Muddy Creek and the Canyon, this is a major ecological setback.
This is ever more proof of the risk Abandoned Mine Lands pose to healthy ecosystems, and that our work is not done.
We will continue to push for restored water quality, innovation, and will not accept this as the status quo for Muddy Creek. Now more than ever, SMCRA AML reauthorization will be critical to address the longstanding ecological damage continually caused by abandoned mine lands. We're not out of the weeds, yet.