Friends of the Cheat continually seeks new Board Members from a wide range of backgrounds to bring new vision to the future of the organization. If you are interested, please review the board member expectations and contact Board Chair Charlie Walbridge at ccwalbridge@cs.com.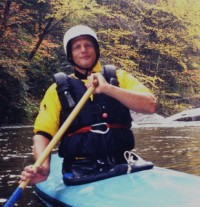 Charlie Walbridge, Interim Chair, started paddling whitewater in college and first visited West Virginia in the late 60's. An active C-1 slalom and wildwater racer, he worked part-time as a river guide on the Cheat River in the late 70's. He ran a mail order company, Wildwater Designs, for 22 years. After the company closed he and his wife, Sandy, moved to Bruceton Mills. He worked as a sales rep for Northwest River Supplies in Idaho and serves outfitters from Maine to Georgia. A long time member of the American Whitewater board, he maintains their accident database and produces a bi-annual annual report of U.S. whitewater fatalities. He's also an ACA instructor-trainer in swiftwater rescue and teaches regularly on the area's rivers. He's produced several books and is especially proud of A Canoe and Kayak Guide to West Virginia, the updated version of the publication that first brought him to the state. He's also on the board of Camp Mowglis, the place where he learned to canoe.  His web site is www.charliewalbridge.com.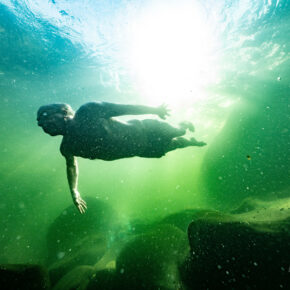 Richard Dennis, Secretary, has lived in Morgantown, WV, since 1979. Together Rich and his wife, Bettina, have raised three children and now have a grandson, all of whom live in Morgantown. Rich attended West Virginia University from 1980 to 1983, where he completed a Bachelor's and Master's of Science in Mechanical Engineering. Since 1983, Rich has worked at the National Energy Technology Laboratory (NETL) in Morgantown, where he is currently a Technology Manager for Advanced Gas Turbines and Power Cycles based on Supercritical Carbon Dioxide as the working fluid. Rich is a Fellow of the American Society of Mechanical Engineers.
Rich has kayaked in WV, surrounding states, and out west. He loves the Cheat for its perfect beginner boating opportunities on the Narrows, and classic whitewater through the canyon. Rich's favorite moments these days are on those hot, end-of-summer-low-flow-days on the Narrows with family and friends.
Rich served on the board of Friends of Decker's Creek (FODC) from 2009 – 2015, serving as  Board Chair in 2015.  Like FOC, FODC is a high-performing, community-based watershed advocacy and restoration group. For Rich, working for these groups has been incredibly valuable and rewarding; their accomplishments have real impact on restoring watersheds and communities.  Rich has been on the FOC Board of Directors since 2017; he says it is an honor, and a pleasure, to serve FOC.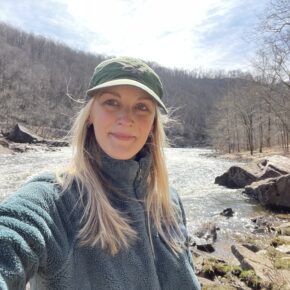 Miranda Peddicord, Treasurer, was born and raised in Preston County, West Virginia. The Cheat River and outdoors have always been a big part of her life. She currently lives in the Cheat Lake area.
Miranda graduated Magna Cum Laude from West Virginia University in 2013 with a bachelor's in accounting. After interning at a Bridgeport accounting firm, she accepted a full-time position there after graduation. She later became the Financial Director at the United Way MPC from 2016-2018. Currently, she is the Financial Accountant at AllStar Ecology – a local environmental consulting firm. When approached to join the FOC Board as Treasurer, Miranda was honored to become more involved in an organization that is near and dear to her local roots.
Miranda has attended and/or volunteered at nearly ALL Cheat River Festivals throughout her upbringing. She enjoys an array of outdoor recreation such as rafting, skiing, hiking, and camping – most of the time these activities take place along the Cheat River. She tries to take advantage of all that wonderful West Virginia has to offer with her hobbies.
Miranda hopes to support the organization with her financial background and local understanding of the community. She is enthusiastic to be joining the other dedicated members of the organization.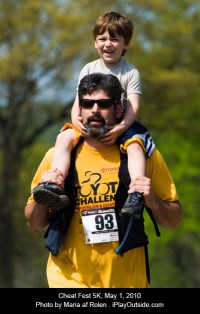 Rick Chaney has been a supporter of FOC since its formation in 1994 when he worked as a river guide.  A resident of Preston County since 1992, Rick is an accomplished singer, song writer, and musician. He holds undergraduate and graduate degrees from WVU in Animal & Veterinary sciences and an Associate degree in Natural Resources and Wildlife Technology. Mr. Chaney presently works as the Army TrainingSite Environmental Manager at Camp Dawson in Albright, WV. His position requires knowledge of current environmental compliance guidelines along with natural and cultural resources. His office has been able to assist FOC in various projects including water quality monitoring, eradication of invasive species, and grassland restoration. Mr. Chaney hopes to assist FOC in moving forward in spite of cuts in funding at the state and federal level and increased pressure on the watershed from Marcellus Shale activity.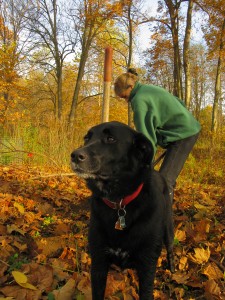 Connie Miller taught elementary education in Kanawha County for several years and then at Bruceton Elementary for 11 years. An FOC member for years, Mrs. Miller became more significantly involved in the work of the organization during her son Andrew's service as an Office of Surface Mining/AmeriCorps Volunteer In Service To America (OSM/VISTA) for two years. She's presently completing her Master Naturalist certification along with having completed the WV Save our Streams volunteer monitoring certification last summer. Connie plans to continue to participate in FOC's volunteer water quality monitoring program and assist in the development of future environmental education programs involving the local community.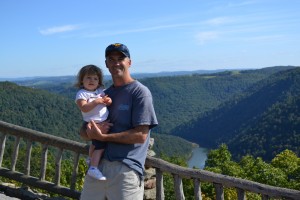 Mike Strager was introduced to the Cheat River Watershed in the mid 1990s as a WVU graduate student sampling water quality in Sovern Run and the Big Sandy watersheds. An avid fisherman, he lamented at that time the fact that such beautiful local streams were devoid of any game fish such as brook trout or smallmouth bass. This experience helped form his graduate work on prioritizing watersheds for restoration.
As a professor in the Davis College – School of Natural Resources at WVU, Mike works on water resource issues statewide and has a special affinity for the Cheat River Watershed. Mike's ability to analyze spatial datasets within both the physical and social sciences realms are part of the unique skill set he brings to the organization. His also has connections to the Cheat Lake Environment and Area Recreation (CLEAR) organization and the Power Company at Lake Lynn Dam in which he has helped to coordinate lake cleanups, establish public access sites, and develop rail trail and beach projects.
Mike has a true love for this watershed and has either waded, paddled, or wakeboarded from the upper sections of the watershed in Shavers Fork all the way to the lake and tailrace to Point Marion, PA.  He is proud to be part of an organization that is helping to improve the Cheat River now and for future generations to enjoy (such as his two young daughters).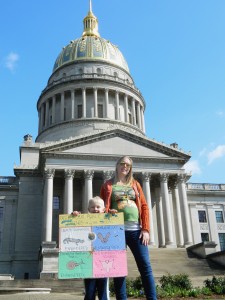 Sarah Hinnant grew up on a small sheep farm in rural Pennsylvania, and nature has remained a big part of her existence. During her formative years, her family would pack their van and head to her Grandmother's house in Masontown, West Virginia. Asleep in the back seat, she would awake to the smell of the mountains, cool and dank. After following her heart to the desert of New Mexico, Sarah and her husband, John, have returned to ancestral land in the mountains of West Virginia to raise their family. They run a small organic vegetable farm called Cheat Hill Farm. They are situated at the top of Cheat Hill, just above Jenkinsburg Bridge.
Sarah works in Morgantown as a nurse anesthetist and John works for Rustic by Design as a mason. They both enjoy working part time so that they can devote a majority of time to their farm, friends, family and spiritual well-being. A great deal of their free time is spent outside playing on the farm and in the Cheat Canyon. They are naturalists at heart and pride themselves in the self-reliant living the land provides. Becoming a board member for Friends of the Cheat was a natural progression in Sarah's journey to protect the invaluable land in which we work, live and play.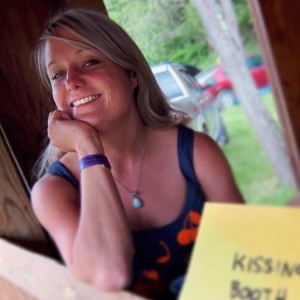 Dani Martin often boasts that the Cheat River and the FOC community altered the course of her life. When she first moved here from Oregon, she had little intent on staying; however, she quickly fell in love with the Cheat River. And when you love something, you want to take care of it. She is dedicated to spreading environmental awareness and to preserving the integrity of the watershed. Dani is a Forest Pathologist for the USDA Forest service and works with Federal, State and Private land managers in the identification and management of invasive forest pathogens. She also collaborates with Universities in conducting forest pathology related research. She spent many years in Oregon, where she earned a master's degree in Plant Pathology from Oregon State University. She also has bachelor's degree in Forest Resources from the University of Minnesota. She is chainsaw certified and has worked on several wildfire and hurricane disaster emergency response details. She also does work details with USAID, the lead federal international disaster relief agency. She loves to travel and has been to 49 states and 15 different countries. She enjoys mountain and road biking, cross country skiing and watercolor painting. Most of all, she enjoys white water rafting. She just got a new Aire puma, and looks forward to seeing you on the water.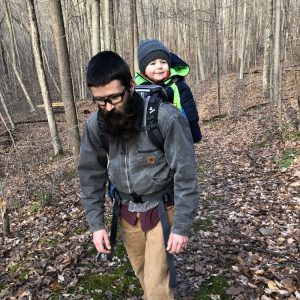 Zach Fowler lives in Morgantown, WV, and works for West Virginia University as WVU Core Arboretum Director and Service Assistant Professor in WVU Department of Biology. He spends much of his time helping connect people to nature at the Arboretum, maintaining the Arboretum, or teaching at WVU. He also likes to spend time with his family, bike, ski, go on adventures, and look at plants, birds, mushrooms, etc. He grew up near Middlebourne, WV, in Tyler County. Zach attributes his love for nature and the outdoors to living near a creek and forest as a child and spending most of his youth outside observing nature. He feels very lucky to have been able to stay in WV and pursue an education and career studying nature and sharing knowledge with others.
Zach went to West Virginia Wesleyan College for a B.S. in Biology and Physics, and then to WVU for a Ph.D. in Biology (Forest Ecology and Biogeochemistry). Between college and graduate school, he lived for a few years in Oakland, MD, and served as an AmeriCorps volunteer at Garrett County Cooperative Extension Office and the Western Maryland 4H Center.
Zach loves rivers as an integral part of a healthy ecosystem. Zach first made it into the Cheat River watershed in the late 90's while he was in college at WVWC, and since then, he has explored most of its reaches for recreation or nature study. Growing up near a creek in WV teaches important lessons about pollution, and seeing the destruction of WV's natural environments has unfortunately been part of living in this state. Zach has always wanted to help fix the destruction in some way, and he is happy to serve Friends of the Cheat and be part an organization that has been successful in its mission to restore, preserve, and promote.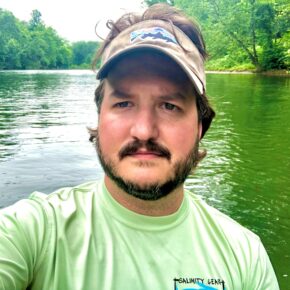 Chris Wade, a native of Fairmont, WV, grew up exploring the natural environment of the West Virginia Highlands by camping, hiking, kayaking, skiing, and fly fishing throughout the Monongahela National Forest. After graduating from WVU in 2007, Chris left the state to live in other parts of the US and the UK, working in government contracting and global investment banking. After moving back to West Virginia, he started his own practice as a financial advisor with Northwestern Mutual in Morgantown in 2014, and now lives in Morgantown with his wife, Jamie, and 2 dogs, Tony and Jerry.
Chris continues to spend most of his free time in the mountains of West Virginia, and in the Pisgah National Forest of North Carolina. He frequently backpacks in Dolly Sods and Spruce Knob, and travels to Thomas, Davis, and Canaan Valley for outdoor activities year-round. He also actively fly fishes in the Cheat River watershed, including Shavers Fork, the Blackwater River, Dry Fork, Glady Fork and Laurel Fork, along with numerous tributary streams.
Chris joined the board of Friends of Cheat to help the continued preservation and promotion of the Cheat River watershed.