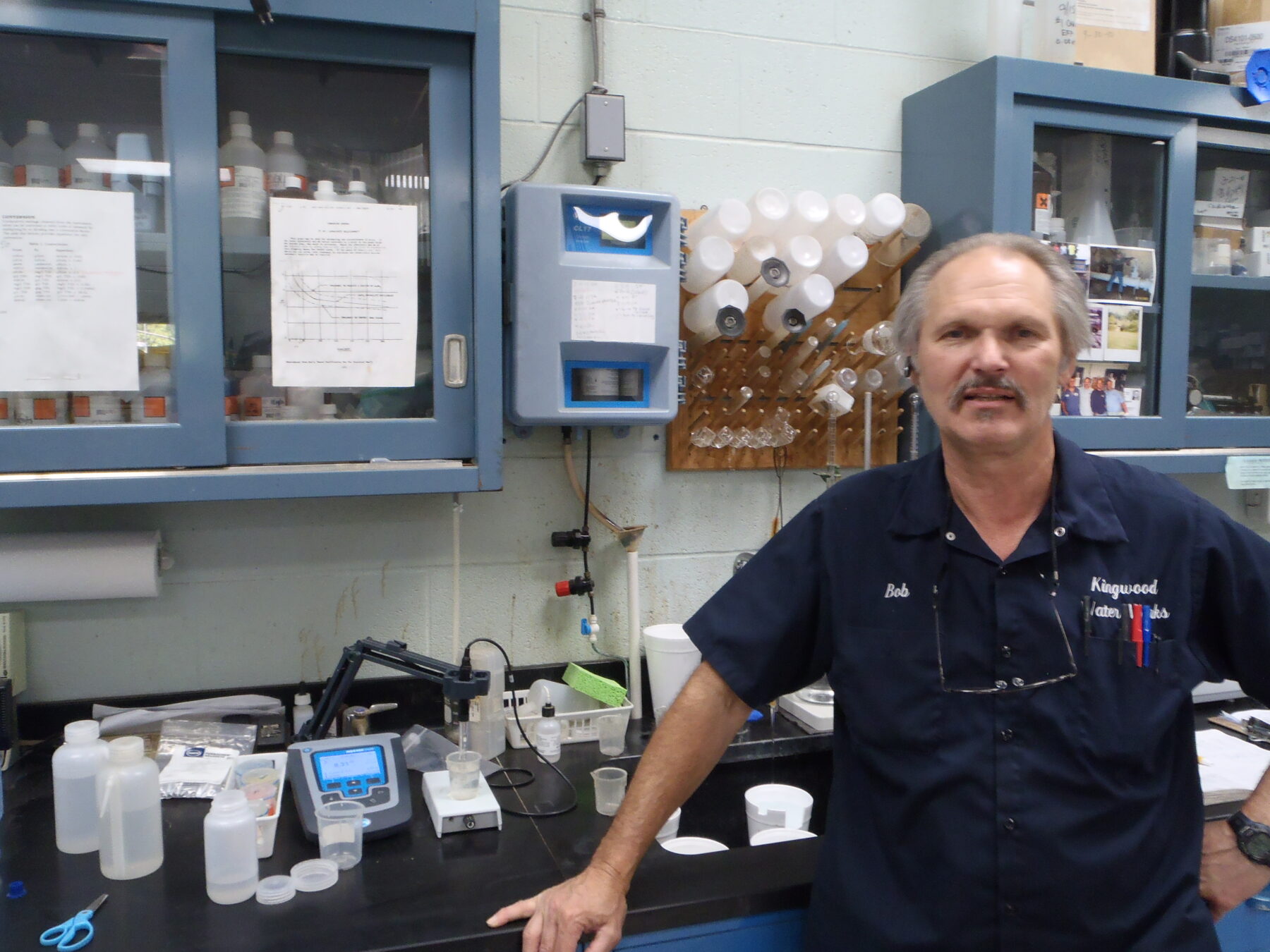 Robert McVicker is the Chief Operator at the Kingwood Water Treatment and Filtration Plant on Route 72 downstream of the Cheat River Narrows. He has been keeping Kingwood's drinking water looking clear and tasting clean since 2002. He recently received the Perkins-Boynton Award from the West Virginia American Water Works Association for exemplary operations in systems with more than 1,000 customers. Also, in 2011 and 2012 he received the Area Wide Optimization Award for outstanding efforts toward optimizing filter plant performance. Before pursuing a career in drinking water treatment, Robert operated and maintained nuclear power reactors on Navy submarines and power plants.
Bob, where does our water in Kingwood come from? Do we have a backup supply?
Kingwood's water comes from the Cheat River. The Cheat always has water, even in a drought. We have a high water in-take and a low-water in-take. When the water is really low in the river – to the point where you can walk across it on rocks, we can still get water from underneath the riverbed. We don't have a backup water supply right now, but I would like to explore putting in a well as a backup system.
Can you briefly explain how the water is treated? Is it easy work?
First we pump the water to a distribution box where we inject chemicals to counteract the charged particles present in the water so that the particles can clump together and settle out. The solids settle in two outdoor clarifier tanks which do the majority of the work. Then the water flows through carbon filters to polish it off. Then we add some chlorine to keep it clean while it's flowing through the water system and while we pump it to one of four holding tanks in Kingwood.
We currently only have two operators so we work on average one 12 ½ hour shift per day, and switch who works every other weekend. We produce water 12 hours every day and shut down at night. It is not easy work.
Pringle Run, Lick Run, and Heather Run flow into the Cheat upstream of the water intake. Does the acid mine drainage present in those stream affect the drinking water quality?
We are lucky that the AMD in those streams have about 1 mile in the Cheat before reaching the water in-takes. The pH is already back up after about 100 yards below the confluence. The volume of the Cheat is so large that even with a low alkalinity number it has sufficient alkalinity that it cleans the water before it even gets to us. The solids from the metals settle out before it gets to us. In fact, some extra solids coming into the system helps me treat the water because when more solids stick together, they become heavier and settle to the bottom of the clarifier tanks easier.
Charleston chemical spill. How has it affected your job? Could it happen here?
We already have a source water protection plan (SWPP). We test for pH, conductivity and temperature continually with online monitors provided by RAIN (river alert information network) of which we are a member. Now that we have to comply with SB 373, we must make some changes to the SWPP, but we will have a hard time coming up with the money and the time to do it. The point is to determine specific parameters to monitor for according to the specific point sources present upstream.
Here, we need to keep an eye out for trucks and cars that may enter the river near the Rolwesburg bridges. But if they spill a fuel, often it will float on the surface, and then we will start pumping from our underground water in-take if we need to. The main thing is to just be conscientious. We use common sense in those scenarios.
Has there ever been an unpredicted event affecting water quality at the plant?
From time to time we issue a boil water advisory, but that is not due to source water contamination. It is usually due to a break in a water line, so there is a potential for contamination. It is more of a precautionary step until we repair the pipes.
Most things can be treated, but it's hard to treat water without electricity. We have to worry most about Mother Nature – she will kick your butt!
Sometimes it smells bad when driving by the treatment plant. Why is that?
The wastewater treatment plan is right next to us, but it is not possible for the poop to contaminate our drinking water because that effluent discharges into Morgan Run which enters the Cheat downstream of our in-takes. We have even altered the bed of the Cheat to make sure no water from Morgan Run gets near our in-takes.
Do you recreate in the Cheat River? What is your favorite thing about the Cheat River?
I fish for trout in the Cheat, but often I don't have the time! I work on average 11 to 13 hours a day at the plant.
It's a good river – we have good raw materials to work with. The river is a living, dynamic system that changes regardless of the weather. That keeps it very interesting.
What's in store for the future of the Kingwood Plant?
There is always room for improvement. This place has a lot of potential, but improvements cost money that we often don't have. We have good facilities and equipment here – I wouldn't have stayed here this long if we didn't. I always do above-average work, or I don't do it.
Thanks for sharing with us, Bob.
By: Kevin Ryan